Support That Keeps Your Organization Going
WaterGrass customers get two hours of support a month.  Enough so that staff isn't afraid to pick up the phone and call.  In September, we help many groups segment mailing lists.  In January, we often generate custom annual reports (in addition to all the standard reports we provide).  We get it.  We've managed nonprofits ourselves.
We know our clients by name.  In some cases, we've worked with organizations longer than any of the current staff members.  We've seen organizations through ups and downs, and in the tough times, we help make sure the database continues to collect the data you'll need to grow again.
"The very daunting task of transitioning the administrative functions of WaterGrass over to a new admin was made easy after reaching out to Carl. He streamlined the process, walked me through the necessary steps, and took a huge weight off my shoulders!" - Jena Shaffer, Mountain Watershed Association
Training for New Staff (and Veterans)
The database is only as good as the data that goes in.  Every quarter we repeat our basic skills webinars so that your staff knows how to correctly enter data, generate reports, and pull mailing lists.  We invest in your capacity to use WaterGrass because that makes us all successful.
Enter volunteer information right from your event.
No more entering lists from signin sheets afterward.  Sign volunteers in, assign them hours, note their interests and even customize their thank you email - right from a phone or tablet, at the event.
Volunteers receive that customized thank you as soon as soon as you synchronize again with your WaterGrass database.  That means they still remember who you are and why they want to support you.  You can include membership information with the email if you choose.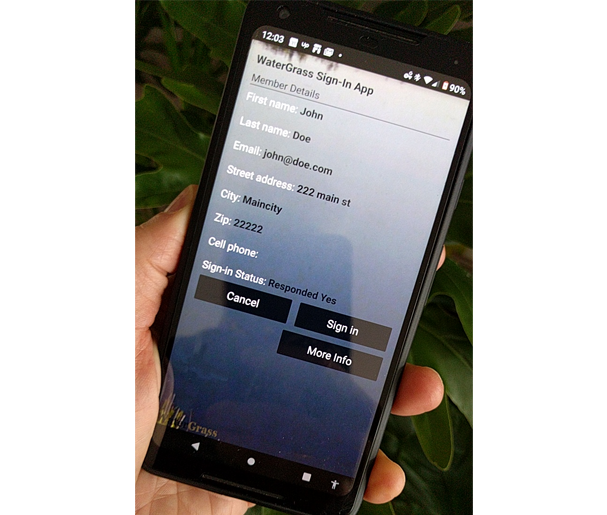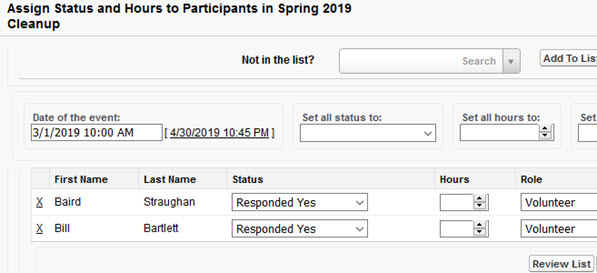 Easily Process Participant Lists
Our custom page for processing sign-in sheets and participant lists saves hours and improves accuracy.
"I recently got to use the new process participant list and I really enjoyed it. I especially like how easy it is to add new contacts in the same webpage." - Kevin Tosie, Missouri River Relief Operations Manager.
Integrate Your Data - Automatically
Most nonprofit packages integrate with Salesforce.  For example, Salsa online petitions  and actions flow through the Salsa Salesforce Connector into WaterGrass, matching against existing records.  Results of your Vertical Response emails are logged in the database under each respondent's record.
Try it out - no strings attached
What are your database needs?  If you're a potential WaterGrass customer, we'd love to talk with you.  If WaterGrass isn't a good fit for you - and it's not for about half of the people we talk with - we'll recommend other databases that organizations like.