WaterGrass pays for itself.
Organizations that switch to WaterGrass see a jump in their ability to reach out, and over time they grow faster than their peers.  WaterGrass helps them create systems and processes to manage more events, more appeals, and more people.  In the graph at the right, organizations recruit more new donors afterswitching to WaterGrass.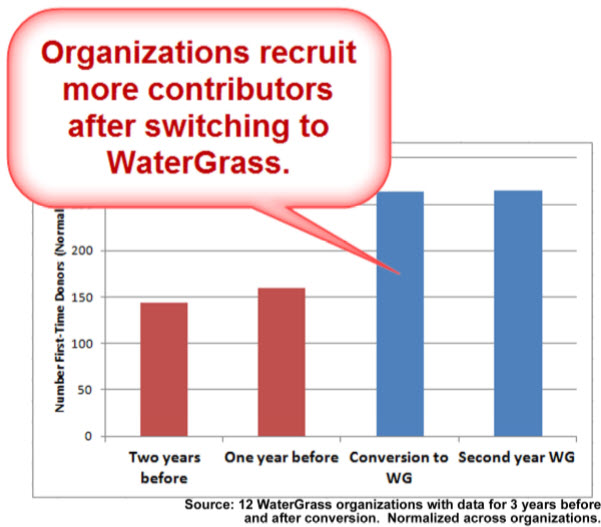 WaterGrass protects data integrity.
Sloppy data input costs extra hours of work as you try to pull reports - or it may make your database useless altogether.  You can't reach out to your supporters and you miss opportunities.  We've seen that happen.
Our data entry routines obligate users to first search for existing contacts, to avoid creating new duplicates.  They include different fields according to the type of contribution - and you can customize that. Our online webinars and our support help you keep your staff well trained.
Capture more data faster
Your biggest assets are your supporters, and WaterGrass helps you build a relationship with them.  For example, our Participant SignIn app (at right) lets you sign in participants at events, note their interests, write a customized thank you email, and tag them as likely leaders. It even lets you know if they are donors or not.  Your thank you email goes out immediately - while you're still top of mind.
WaterGrass reduces obstacles to data entry.  Our special forms streamline redundant work like entering participants lists or stacks of donations.  That means that thank you letters go out right away - while the donor still remembers what she gave.   And that builds relationships.
WaterGrass is available in a mobile format for iOS and Android.  Call up the latest details of a donation or a grant right from your phone.  Dictate your notes on a meeting into the phone using voice-typing.  That means colleagues stay up to date on the latest developments in an important project.
Try it out.
If you think you may be interested, request a trial.  We'll tell you if we think WaterGrass isn't a good fit - and we'll be glad to recommend alternatives.