At WaterGrass, we try to stay close to our client organizations, especially at the end of the year, when they bring in a disproportionate amount of support from their communities. We enjoy learning with them what works and what doesn't, and sharing their lessons with others.
For the past five years, Carl has run an End-of-Year Appeal series for WaterGrass organizations. This year, he was surprised when:
Fundraising goals for the EOY campaign jumped substantially;
Groups employed a greater range of techniques to reach out.
The change is striking enough to share what we're seeing. Here are five takeaways:
Giving Tuesday is serving as an "anchor" for the start of End-of-Year campaigns.
Lis Heras, Development Coordinator at Friends of the Rappahannock, is one who has used Giving Tuesday with success. She shared a printed piece she used to inform board members and others about their fundraising options, and recorded a short video for us:
More are using "peer to peer" campaigns
Melanie Cheney writes, " When it comes to P2P giving, we've heavily focused on Facebook Fundraisers and have seen great success doing them in the past, and we've encouraged others to create one as it is a super easy P2P giving option."
"I often have prioritized it in this way when asking people to consider hosting a P2P:
You can host a Facebook Fundraiser centered around Giving Tuesday (or anytime really).
Create a Peer-to-Peer Fundraiser on CoMoGives during the entire month of December! (See below.)
There are more ways to support your favorite non-profit than donating money. You can share emails, Facebook posts & Fundraisers with your friends, telling them why you support Missouri River Relief! You can also make a pledge of action here, on the CoMoGives.com webpage."
One of the downsides of Facebook is that it doesn't share your donors emails with you so you can't reach them directly. Melanie says, "If we don't already have their contact info, we reach out to them through Facebook and ask for it. Sometimes it works, sometimes it doesn't."
Organizations make the process of donating easier by including QR codes in their printed materials.
Allie Schneider says, "I heard about the idea of including QR codes on fundraising materials and thought I'd try it to see if our donors responded to it. I tracked engagement by creating two campaigns in Click & Pledge. One was embedded on our main donation landing page, accessible by a button on our homepage of the website. The second was embedded on a 'hidden' page that wasn't linked anywhere. It was only accessible by typing in the exact url (which we didn't promote) or using the QR code. This helped keep the two methods separate."
"We've discovered we have minimal engagement with our QR codes. People seem to prefer to donate by credit card by going directly to our website. HRWC will continue to include QR codes for a few reasons. It's a low-cost way to offer additional donation methods, it's new so we'd like to give our donors a chance to become familiar with donating to HRWC via QR codes, and as a safety precaution, HRWC no longer accepts credit card donations by mail so we are going to include QR codes on our mailings so donors still have a credit option."
Some groups choose to fundraise through aggregators (like United Way) rather than process donations themselves.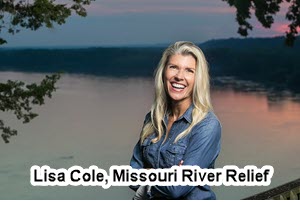 Lisa Cole from Missouri River Relief is trying out a donation aggregator site offered by the Community Foundation of Central Missouri.
She explains that "it's part and parcel of this larger effort in which we participate, and that makes it easier than offering one, directly, ourselves. Last year we had a significant struggle, to be honest, getting people—even our board—to participate in it. But for other local organizations, it seems to be as powerful as the industry best practices indicate. I've invited our board to offer one this year. Last one actually did (in addition to myself and another staff member)."
Heavier use of videos to highlight the resources you're protecting.
The Eagle River Watershed Council in Colorado has to compete with many high-profile nonprofits in the area, so their Development and Communications Manager Melanie Smith used the pandemic lull to develop more professional-looking materials, including their letters, website, and videos.
"In 2020 everyone was isolated and online. We had a budget for outreach, so we developed a new website and a "foundational video" to let the river tell its own story." Melanie says,
"Last year we developed a flexible tag line: "This place is home. Help us protect it." Or "This place is wild. Help us protect it." So we had a lot of B-roll left over from the original video, and from it we created shorter videos for each one of those tag lines. We broadcast them however we could, even including them on donation pages if it didn't slow the load time too badly. We did social media ads, and linked it into the signature of our emails."
"And we saw an unanticipated growth in donations," she reports, although she's not sure that it can all be attributed to the new materials.
You'll find a copy of the video Melanie mentions here. Check out the Eagle River Watershed Council's full YouTube Channel, where you'll even find a video of a spoken-word poem.
What new techniques did YOUR organization use in this year's year-end appeal? What can other organizations learn from YOUR fundraising this year? Add your comments below!